With many businesses affected by Covid-19 jumping on board with digital marketing, you may have noticed a wider variety of Facebook ads recently, but have you seen how Facebook's first ads looked like?
Overview
Let us start with a brief history of Facebook. Facebook was founded in February 2004 by Mark Zuckerberg, Eduardo Saverin, Dustin Moskovitz and Chris Hughes. Facebook was originally created for Harvard students to use their school email addresses to connect with other students at the school. Eventually, Facebook had gone viral at other Ivy League universities, such as Yale and Columbia.
Now you may wonder, why did Facebook evolve from a "social networking" platform to an advertising platform? The change was because the founders needed some liquidity to help ensure the platform kept afloat while the company got off the ground. Hence, the birth of the first ad revenue project, "Flyers".
"Flyers" before "Facebook Ads"
The project, "Flyers" started in April, 2 months after the birth of Facebook. Facebook converted empty screen estate into ad spaces and sold them to local companies promoting moving services, T-shirts, job listings, and other offerings for particular college campuses.

These "Flyers" ads were simple, it took the form of a banner, was displayed on Facebook's homepage and looks completely different from what you see now. While simple, it allowed Mark and his team to meet the goal of keeping the business afloat during its early day. The original "Flyer" placement is now known to us as "Right Hand Column". 
A few years later, with the exponential growth of members, Facebook officially launched its "Facebook Ads" platform in November 2007. Just like a Facebook user, Facebook Ads allowed businesses to create individual profiles, mimicking the functions of a standard Facebook user - to post information about the business, including photos, videos, music and engage with Facebook users. This empowered users to become a fan of a business and share information about that business with their friends.
A New Era Of Advertising
Part of the Facebook Ads platform included Beacon and Facebook Marketplace. Beacon was found to track online actions by Facebook users to serve better ads but was discontinued in 2009. Facebook Marketplace is still with us today. The new program also introduced "Social Ads"
To facilitate Social Ads, the platform also launched Facebook Pages that gave organizations, celebrities, and other entities another avenue to connect with their audience, these are what we call "social actions". This allowed advertisers to deliver more specific targeted ads to users. Facebook Pages have gone on to become the core of any brand's presence on the platform.
With the new platforms available to savvy marketers, a set of strategies quickly developed for driving businesses revenue: (1) Create a business page and (2) pay for ads to acquire new followers (later changed to the page likes we know today). Having someone follow your business page allowed you to post from your business page and have it show up in a user's newsfeed for free (referred to as organic reach).
Gradually in 2009, Facebook rolled out more sophistication in their ads manager platform, allowing advertisers to target users by language spoken, and geographic location. These early targeting techniques made it easy for businesses to narrow down their target audience by demographics, which is a great starting point. Here's what Ads Manager looked like then: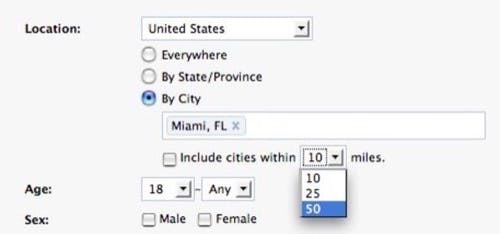 Facebook's member base grew so rapidly that it had 500 million monthly active users in July 2010. Then in January of 2011, Facebook launched its mobile app. However, it was only in early 2012 that Facebook allowed advertisers to show ads to users when on their mobile devices.
Did You Know?
Here's a bonus nugget information on what comes after the "Right Hand Column" Facebook desktop ads. They are what we now know as "Newsfeed Ads":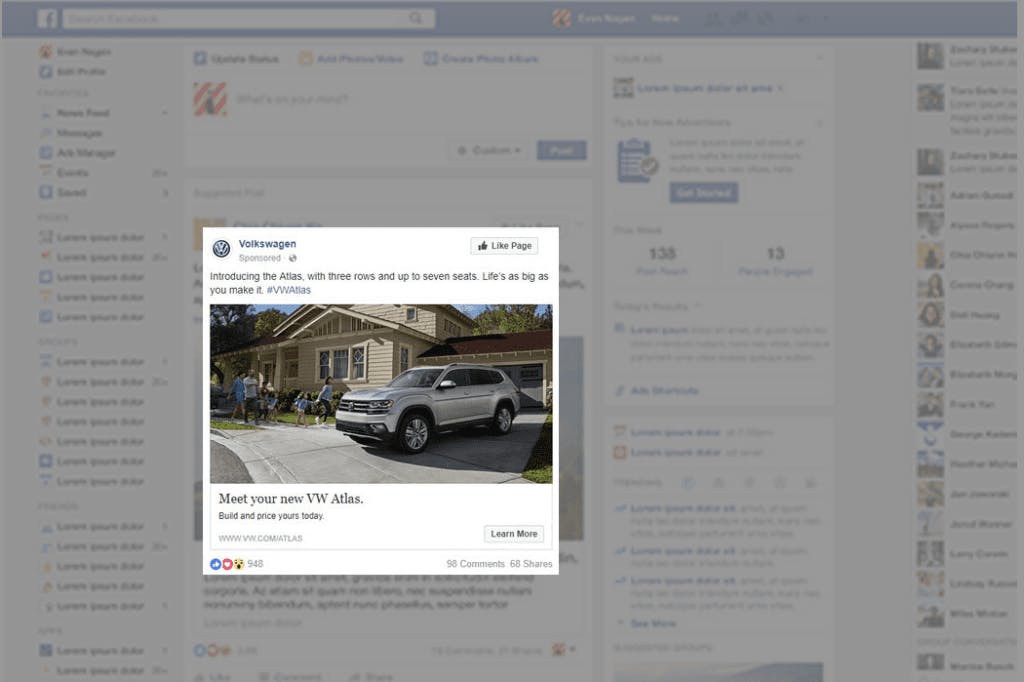 It's amazing how the idea of selling ads to offset server costs have since gone on to become one of the most powerful marketing channels available to brands. If your brand has ever utilized Facebook as one of your marketing tools, you will realise the depth of what Facebook targeting can cover. 
In our next article, The History of Facebook Ads - Part 2, we will continue going through the history of Facebook advertising on mobile.
Here at Big 3 Media, we're a Singapore video production company that offers a suite of services to market your business during these challenging times:
Live Streaming services
Video production
Website design and development
Media Buy
Graphic Design & Mascot design
Content Marketing Strategy
If you are looking for content marketing options for your business, drop us an email or message and find out how Big 3 Media can help you!